The Traditional Seal Embosser
ASN Hot Tip, January 2010-#1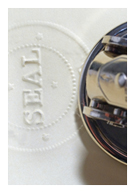 For traditionalists, nothing conveys the authority and beauty of an official notarial seal quite like the raised imprint created by a seal embosser. These long-time tools of the trade are still used by many notaries, and may be either handheld- or desktop-style.
While convenience and the need for a reproducible image have made ink-stamps the predominant tool used by today's notaries, the embosser is still authorized for use as an official notary seal in 30 states (includes the U.S. Virgin Islands). The embosser is the only authorized tool in three of those jurisdictions (Alabama, District of Columbia, and USVI). Elsewhere, many notaries elect to use an embosser in conjunction with their official ink-stamp for the additional ceremonial impact that the raised seal impression achieves, and to help assure acceptance of notarized documents in other countries and jurisdictions.
On these points, the late John E. "Jack" Seth, ASN Director Emeritus, attorney and notary expert, wrote:
Although not accepted as an official notary seal in many states, research has confirmed that many consider the embosser to be more "official" and authoritative, and some foreign recipients have rejected documents from U.S. notaries using only an ink-stamp… they feel the documents have not been properly executed unless they bear an embossed seal. Many notaries choose to use both an ink-stamp and an embosser for the imposing aspect of the embossed seal and the respect it commands.
Whether it's the required seal imprinting tool or whether you use one by choice, the embosser is a special tool that requires thoughtful use and handling. Keep these tips in mind:
1. The part of the tool that makes the raised seal impression is called the "die" or "insert." It can be removed from the body of the embosser and replaced by an updated one with each new commission term, if the body of the embosser is still in good working order.

2. Never discard any intact die or insert. You need to deface or destroy the die/insert so the two halves cannot be salvaged and used to create a fraudulent seal impression. We suggest breaking the die/insert in two, using a heavy metal file to deface both halves of the die, and tossing them in separate trash bins.

3. Some states require your seal image to be photographically reproducible. If you use an embosser in one of these states, always remember to ink the raised seal image using a seal impression inker (available from ASN's

Online Store

).

4. If you are a notary whose only authorized seal-making tool is the ink-stamp, but you also own an embosser, remember never to use your embosser in lieu of your ink-stamp seal for official notarial acts. You may use your embosser only in combination with your official ink-stamp seal.
Properly Dispose of Your Notary Seal from Your Previous Commission
ASN Hot Tip, February 2009-#2
The Situation:

ASN is frequently called or emailed by notaries whose commission has expired, and they now have a notary commission ink stamp and/or embosser that they can't legally use any longer.
The Notary's Dilemma:

What should a notary do with an official notary commission stamp/embosser from an expired notary commission?
The Solution:

Some states have specific steps for the notary to take, including submitting the seal to state notary authorities upon commission expiration or resignation/revocation or death. So, in any case where you cease to be a notary, you need to learn whether your state has a specific requirement for you to deliver your seal to your state's notary authorities. ASN can help you determine if your state has such a requirement.
If your state has no specific instructions for disposition of your seal when you cease to be a notary, you must be sure to deface your seal to ensure it can never be used again. In cases where the only course to take is actual destruction of the seal, do you know how to do it effectively?
The Process:

The old seal must be defaced in a way that makes it impossible for the seal to make enough of an impression on a notarial certificate to authenticate it. More to the point, the portion of the seal that leaves an ink impression or embossment must be destroyed. (We know of a notary who smashed his self-inking stamp case to smithereens with a hammer, but left intact the rubber pad that was used to make the seal impression.)
HOW TO DESTROY

To destroy a self-inking notary stamp, put the stamp case upside-down on a non-slippery surface and push down on the case to expose the stamp surface. Carefully peel the rubber impression pad away from its base. Cut up the pad with a pair of scissors.
Distribute the pieces of the pad into at least two different trash containers.
Destroying a metal embossing seal is a little more involved. One way is to remove the die insert from the embosser handle and carefully deface the raised portion of the seal impression with a heavy-duty steel file. This works especially well if you break the die insert into two pieces. Discard each die insert piece into separate trash containers.
Another method is to contact your local law enforcement agency, and ask if you may turn in the embosser's die insert to be melted down with confiscated firearms. (We include this because we actually spoke with one local law enforcement agency that was happy to accept die inserts for melting.)
We get many good ideas from our members, so let us know if you have found a safe way to destroy an old seal that we haven't listed here.