Common Workplace Challenges for Employee Notaries
ASN Hot Tip, September 2009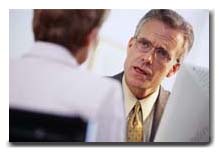 If being a notary is one of your job responsibilities, then you may have encountered some of the issues listed here. (If you haven't faced these challenges, you may wish to thank your employer for maintaining a notary-friendly workplace!). A notary trained in notary law and procedure, who is aware of the duties and obligations of his/her notary commission, is less likely to be coerced or taken advantage of in the workplace.
Challenge: The Personal Appearance Requirement

The first rule of notarization is that the signer MUST personally appear before the notary at the time of the notary transaction. In many cases, employee notaries are presented with documents that have been signed by customers who are not physically present before them… the employee notary is expected to simply sign and seal the notarial certificate on the signed document. Sometimes the document presented by the employer for "notarization" is not even signed. In most all cases, the pressure to sign/seal a notarial certificate without the signer present comes from a supervisor; in the worst cases, the employee notary feels his/her job is threatened unless the improper deed is done.
In keeping with the times, we've also noticed many inquiries from members who ask if they may participate as notary in a videoconference or via web cam. In most all circumstances, the signer is NOT in the physical presence of the notary, but will "appear" before the notary onscreen. No matter the circumstances, the notary and signer must be in one another's physical presence for notarization to occur. Obviously, this requirement is not met when the signer "appears" before the notary onscreen instead of in-person.
ASN Recommends:

An employee notary must be firm and refuse to sign/seal a notarial certificate unless there is a proper, full notarial act with the signer physically present before the notary. There are simply no exceptions to this most important, fundamental rule.
Challenge: Access to Notary TrainingIt is essential that employers find a way to make notary training available to employees. This is particularly true of companies that have large numbers of notaries on staff. The need is even more urgent in states with no mandatory notary education requirement. Any employer should want to ensure that employee-notaries who officiate on behalf of the company are knowledgeable and competent. Education is the single most powerful weapon against liability, for both the notary and the company.
ASN Recommends:

Today, there are more opportunities than ever for a notary to receive notary training, whether through public seminars, online training or private classes. Talk to your employer about available education options. ASN, for example, offers online training and phone training nationwide, and live training in limited areas.
Challenge: Control Over One's Notary Commission, Stamp, Supplies and Other Records

Often, an employer who pays for the employee notary's commission wants to "safeguard" the notary's important documents and tools, such as the original notary commission certificate, official seal, and recordbook. ASN hears regularly from notaries who know almost nothing about their notary commission because they have no access to their records or seal (the seal is held by a department manager, and doled out only when a notarial act is required).
This problem is compounded by employers who insist on keeping a departing employee notary's commission certificate, seal and other items "because the company paid for them."
ASN Recommends:

Employee notaries must insist on physical control of their notary items if they currently do not have it. In many states this is a statutory requirement, and everywhere else it is strongly recommended. Take your notary commission certificate, tools and records with you when you leave your current employer (unless you are commissioned in a state whose statutes provide exceptions). If your employer resists this, you may wish to contact ASN or your state notary division for advice.
Challenge: Employee Not Allowed to Maintain a RecordBook

One of the best ways a notary can guard against a claim of malpractice or impropriety is to keep a recordbook (notary journal) and to consistently record the facts of each and every notarization. Because it takes an extra minute or two for the customer and the notary to complete a recordbook entry, an employer or supervisor may dislike the employee notary's insistence on documenting every transaction. The employer doesn't want to hold the customer up, even though the recordbook helps to protect not just the employee notary, but the employer, and the customer! Proper use of the recordbook also requires personal presence of the signer—the golden rule of notarization that employee notaries are often asked to break.
ASN Recommends:

Remind your employer that keeping a recordbook is good, sound notary practice that protects everyone involved with the notarial act. In some states, it's required by law.
Challenge: Employer Has No Company Policy Regarding the Employee Notary's Actions in the Workplace

The lack of a comprehensive policy outlining the employee notary's role and duties during business hours is an oversight suffered by many employers. If an employer is going to limit the employee notary's duties during business hours, then some thought should be given to developing a policy that ensures the actions of the employee notary are within the scope of the state's notary law, and that no improper discrimination will occur.
ASN Recommends:

An employee notary can suggest to an employer that the company's general counsel and/or human resources department be consulted regarding notary policy, notary law and vicarious liability. Once a policy is developed, it can be posted in the workplace's public area as an informational service to customers.
Challenge: Employer Attempts to Control Employee Notary's Activities Away From WorkWhile an employer might direct an employee notary's activities during business hours, the employer has no say whatsoever over an employee notary's activities outside the workplace. This is true even if the employer paid for the employee notary's commission, seal or recordbook. Likewise, notarial fees earned by the notary outside his/her place of employment belong to the notary; the employer cannot attempt to take them on the grounds that it paid for the notary's commission and supplies. The employer is not liable for any notary acts performed by the employee notary while the employee notary was acting as a notary on his/her own time away from work.
ASN Recommends:

The employer and employee notary should have a frank discussion regarding the employee notary's role and duties both on and off the job.
Challenge: Lack of Company Support for Professional Membership

We may be singing to the choir here since you are reading this because you are an ASN member, but we'd like to see more employers support their employee-notaries' interest in belonging to professional organizations like American Society of Notaries. In spite of the obvious benefits, a surprising number of employers view notary organization memberships as an "extra," and tell their notaries that dues must be paid out-of-pocket. The benefits that organizations like ASN provide (toll-free technical support, notary law updates, discounted supplies, newsletters, education, reference books and more) are well worth the investment in dues—especially when dues are as modest as ASN's ($39 for one year… that's just 75 cents a week).
ASN Recommends:

Get the most out of your ASN membership by using our toll-free technical support line (we like to say, "Don't guess… ask!"), reading your Hot Tips, or browsing our web site for the latest educational offerings and information. Then tell your employer how the information and support we provide helps you avoid improper actions that can lead to sanctions or liability. Your membership in ASN is a small investment for a lot of support and information, and we're always glad to help you.