Questions to ask about eNotarization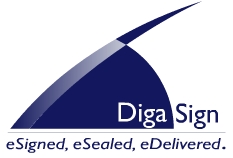 Not All eNotarization Solutions are Created Equal.
With new state legislation coming out daily from various Secretaries of State, notaries should be aware of important questions to be asking eNotarization Solution Providers:
Can multiple notarizations occur from multiple locations?
Does the system prompt for " Consent to Electronic Transaction " agreement prior to any signing taking place?
Does the actual signature of the appear on the document?
Does the actual signature of the notary appear on the document?
Does the system guide the signer to each signature and initial coordinate or does it require a manual placement at the time of signing?
Can the system be used for any industry?
Does the system provide date and time stamping on notarial acknowledgments which prevents the time altering of dated documents?
Does the system automatically have an audit journal to record each event?
Does the system produce "Tamper Sealed" electronic files?
DigaSign enhances the security and compliance of documents by eliminating errors due to missing signatures, initials or dates. DigaSign features three signing options: Sign Once - Apply All, Sign Once - Accept Each or Sign Each. "Wizard Navigation" guides signers to each signature coordinate making it virtually impossible to miss signature, initial, or date locations.
DigaSign will prevent notarizations occurring from notaries whose commissions have expired or have had their commissions revoked. With generic or state acknowledgments available, DigaSign can populate your documents with the appropriate certificate or can fill in the blank fields in existing certificates.
Complaint Filings:
Complainant Officer takes complaint and submits docs to DA Office.
DA office completes docs and docs are posted to DigaSign.
Package key and password are emailed to DA for signature.
Complainant officer appears before DigaSign notary to have complaint notarized.
Package key and password are emailed to Judge for esignature and eseal.
District Clerk receives email w/ package key and password that docs are ready for signature.
District Clerk exports documents for filing.
DigaSign is a perfect solution for state or local government to post their documents to a secure location where they can be viewed and signed by internal or external authorized parties. For those users needing the application of their professional seals, DigaSign can apply their "eseal", can provide finger print capture, and can provide a journal of all their sealing activities. DigaSign's secure environment provides an audit trail of all activities performed on the documents and tamper seals exported PDF files to prevent any alterations of the finalized documents.
DigaSign offers three different user types:
Designer, Signer and Notary
and is extremely cost effective to implement since there is a minimal,
one-time user seat software and signature pad investment
.
DigaSign's transactional fees
for closing package processing are at a 50% reduction of current FedEx type shipping fees for the transport of closing documents and delivers the package, esigned, esealed, and edelivered in minutes instead of days!
Features:
Biometric digital signing pad
Electronic notary seal
Dynamic custom prompts and smart certificates
Auto-logged electronic notary journal
E-mail notification of completion of signatures
Easy "Wizard" navigation
Audit tracking
Reports and Invoice generation
Secure, patent-pending technology that exceeds Federal mandates
These features make implementing DigaSign into your existing workflow virtually seamless since DigaSign follows the existing flow of notary and signing processes.